Weblog
• VERY STRONG DEBUT MOVIE FROM A YOUNG IRANIAN DIRECTOR
2018-09-01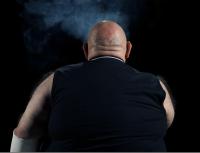 Even though it certainly is funny, Kupal is not a joyful movie. At least not in that sense. We are following Kupal, who is a hunter and taxidermist, but also has a PHD in wildlife. His passion for animals is only rivaled by his love for food, and both are obvious right from the start. He seems like a funny good hearted, although a little grumpy as well, man but he will have to face both the truth about himself and regrets from his past.
Levon Haftvan is fantastic as Kupal, keeping us engaged through the whole 81 min long movie. The whole movie is shot very good, with interior design being something worth seeing. Kazem Mollaie as a director chooses to shot his scenes very boldly and without any restrictions, choosing to move us, even though some might not want to be moved in that way. But we are left without that choice and its worth it.
I saw this movie on Fest festival in Belgrade (Serbia) where Kupal competed under the category – Outside Borders.
Source:
IMDB
(Writer: jasha,1 March 2018)