Weblog
• 'Kupal' to vie at New Horizons Intl. Filmfest
2018-09-01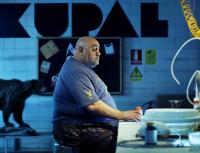 Iranian feature 'Kupal' directed by Kazem Mollaie will be screened at 18th edition of New Horizons International Film Festival in Poland.
The event, which is to be held between July 26 and August 5, will display the Iranian film three times on July 28, 29 and August 3.
'Kupal' narrates the story of a hunter and taxidermist who goes through an unfortunate incident by trapping himself in his basement with little food and no water, having to survive by using creative and desperate means. The storyline of Kupal and the tagline is, 'you can't be alone in this World!'
The feature has previously scooped Best Feature Film Award at the 13th Huntington Beach's Film Festival in US among many other awards and screenings at international festivals.
The New Horizons IFF was launched in 2001. It is an event aimed at presenting independent artistic cinema and seeks for new ways of expression and breaking the frontiers set by conventional filmmakers.
The event will also hosts a special program by the title of "The next wave of cinema from Iran". "Taking a look at Iran this year, we will see surreal thrillers, intricate allegories, genre cinema, experimental films in the field of visual arts and documentaries showing a world that might seem stranger than fiction," the official website of the festivals reports. Accordingly, some other Iranian features including 'Pig', 'Invasion' and 'Asphyxia' will be screened in this sector.