Weblog
• Kazem Mollaie wins award at Philippines filmfest
2018-09-24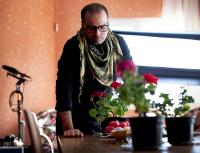 "Kazem Mollaie" director of 'Kupal' has won award from the 2018 Cebu International Film Festival in the Philippines.
Directed and written by Kazem Mollaie, the flick has received Special Mention at the closing ceremony of the film event.
'Kupal' narrates the story of Dr. Ahmad Kupal a taxidermist and hunter. As the Persian New Year approaches he faces a challenge.
Late Levon Haftvan, Nazanin Farahani, Pourya Rahimi Sam, Hossein Shamsabadi are among the notable cast of the film.
The film has bagged several awards from international film events including the 2018 Fine Arts Film Festival in the US.
Cebu International Film Festival aims to engage both global and local communities in a creative conversation through the moving picture, encourage diversity and harness creativity to masterful craftsmanship capturing the large variety of the human condition.
The 7th edition of the event was held September 18-22, 2018.