Weblog
• Kazem Mollaie's Second Movie Coming Soon;
2019-12-01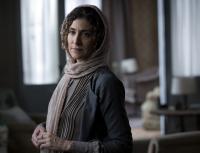 Licensing for the film "The badger" will begin soon, directed by Kazem Mollaie and produced by Sina Saeedian.
According to Borna Culture and Art News Agency, the film is the second mullah to be released after Kupal's successful film, and Vishka Asayesh is the first actor to appear in the film so far. It's completely different. "The badger" is the first film Comfort will have in front of his camera in year two.
Kupal is the first of Kazem Mollaie's art and experimental group to be released last spring and has been featured in more than 70 foreign festivals and has been awarded at festivals such as "6th. Brasov International Film Festival", "34th. Bogota Film Festival"," 26th. Berkeley American Festival","12th. Hamilton Film Festival","7th. Weyauwega International Film Festival","13th. Huntington Beach Film Festival ","5th. The Fine Arts Film Festival "and … .
Sina Saidian, the producer of "The badger", has previously appeared as a producer on "Chanel" and "African Violet" and produced "Nobody's Dying Here."
The film has several other prominent actors that will be announced in the coming days. It is expected to be the first film screening at the 38th Fajr Film Festival.