Weblog
• Iran will present "The Badger" to international film festivals in early 2020
2019-12-01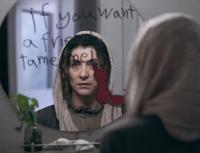 Iran will present "The Badger" to international film festivals in early 2020.
"The Badger", the Iranian feature film, is written and directed by "Kazem Mollaie" and produced by "Sina Saeedian", has just officially wrapped in Tehran and it's time for post-production to start.
After the successful film "Kupal" (2017), "The Badger" is the second Mollaie's film which is expected will be announcing its international release in early 2020.
Nothing summarises the story more than "if you want a friend, tame me", Mollaie said. Mollaie's first film, "Kupal" has screened in more than 70 International Film Festivals. It has received the best film awards at "The 6th. Brasov International Film Festival" & "The 12th. Hamilton Film Festival" in Canada, "The 34th. Bogota Film Festival" in Colombia, "The 3rd. Arthouse Asia Film Festival" in India, "The 26th. Berkeley Video & Film Festival", & "The 7th. Weyauwega International Film Festival", & "The 13th. Huntington Beach Film Festival" and "5th. The Fine Arts Film Festival" in the U.S..
Moreover, Sina Saeidian as the producer, in the early part of his career, he did various technical jobs such as executive producer in "Chanel" and "African Violet" and producer in "Nobody Dies Here".
"Vishka Asayesh" (comedian and famous Iranian actress), has appeared in the exclusive role as the story hero and the other co-stars like Hasan Majuni, Mehraveh Sharifinia, Gohar Kheirandish, Behnoosh Bakhtiari, Reza Behbudi, Mehdi Hosseininia, Siavash Cheraghi Pour, Mahmoud Nazaralian, Yadollah Shademani have played a role in this film.
The main crew of "The Badger" include:
Scriptwriter and Director: Kazem Mollaie, Producer: Sina Saeidian, Director of Photography: Majid Gorjian, First Assistant Director and Program Coordinator: Alaleh Hashemi, Make-Up Artist: Mahmoud Dehghani, Sound Recordist: Mohammad Kian Ersi, Production Designer: Monir Razi Zadeh, Music Composer: Mehdi Panahi, Editor: Babak Ghaem, Costume Designer: Neda Nasr, First Camera Assistant: Daruish Rajaei, Title Designer & Visual Effects: Amir Mehran, Special Effects: Iman Karamian, Script Supervisor: Mahshid Sadeghi, Production Manager: Hamed Azadi, Still Photographer: Yousef Abdolrezaei, Procurement Manager: Amir Jafari Nejad