Weblog
• Smart and incisive thriller shows a different Iran
2020-11-05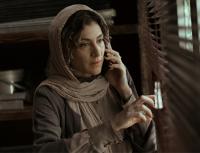 "Termites behave like a family. They stick together, so you have to get rid of them all to eradicate them." So advises the pest control technician, laying some metaphorical groundwork as he assesses the infestation of a home in Iranian writer/director Kazem Mollaie's new film, The Badger.
Said home belongs to Soodeh Sharifzadegan (Vishka Asayesh), and her day is already full up. Besides owning her own cookie business, she's preparing to embark on her second marriage, her son Matiar needs to be picked by her ex-husband Peyman (Hasan Mujani), and it is the eve of the Islamic holy day Eid al-Adha, so Tehran is bustling. As the day progresses, Soodeh deftly keeps all the balls in the air until she gets a call from her sister: Matiar has gone missing, leaving a cafe after lunch and never returning to school. She then receives a thumbdrive via courier which contains a video of Matiar bound and gagged in the storeroom of a commercial kitchen, the muffled voiceover demanding 10 Bitcoins by this evening for his return. (Quick cryptocurrency calculator here: that's about 143 thousand U.S. dollars, or around six billion Iranian rials). This kind of kidnapping for cryptocurrency has become quite common in recent years, and Soodeh fears that the abductors know that her estranged father is a wealthy businessman, and more alarmingly, she begins to suspect that this might be an inside job.
The badger of the title refers to the exterminator's suggestion that he bring in one of his trained mammals to root out the termites (badgers love insects, after all). But it also refers to Soodah, as she scrambles to amass the funds, confront specters from her past, and determine the motive behind the crime. Mollaie's film is brilliantly paced, and he layers his story with foreboding images. A helmeted man on a motorcycle who seems to be following Soodeh, the increasing cracks on the wall of her house, the camera constantly circling Soodeh as her own cracks begin to show.
Asayesh, mostly known for her comedic roles, is stunning as Soodeh, a fiercely independent woman who conveys cool countenance under extreme pressure. If the third-act reveal, when Soodeh realizes what has happened as the badger sniffs around her home, seems a bit overdetermined, it does not take too much away from what is a smart and incisive thriller and a fascinating look at modern Iran.
BY JOSH KUPECKI