Weblog
• "THE BADGER" to vie at Jaipur Int'l Film Festival
2020-12-29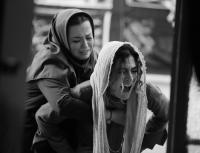 The "13th. Jaipur International Film Festival" (JIFF) will host "THE BADGER" written and directed by Kazem Mollaie and produced by Sina Saeidian from Iran.
After "Kupal", "The Badger '' is the second feature film by Kazem Mollaie. The story is about a woman called Soodeh Sharifzadegan, played by Vishka Asayesh, who is involved with a difficult challenge in her private life , while she is close to her second marriage.
The Jaipur International Film Festival (JIFF) is held annually in Jaipur, India, since 2009. The festival is conducted by the Jaipur International Film Festival Trust.
The main crew of "The Badger" include:
Scriptwriter and Director: Kazem Mollaie, Producer: Sina Saeidian, Director of Photography: Majid Gorjian, First Assistant Director and Program Coordinator: Alaleh Hashemi, Editor: Babak Ghaem, Make-Up Artist: Mahmoud Dehghani, Sound Recordist: Mohammad Kian Ersi, Sound Designer and Mixer: Hosein Abolsedgh, Music Composer: Mehdi Panahi, Set Designer: Monir Razizadeh, Costume Designer: Neda Nasr, Production Manager: Hamed Azadi, Title Designer & Visual Effects: Amir Mehran, Special Effects: Iman Karamian, First Camera Assistant: Daruish Rajaei, Script Supervisor: Mahshid Sadeghi, Still Photographer: Yousef Abdolrezaei, Fatemeh Taghavi, Procurement Manager: Amir Jafari Nejad
The 13th Jaipur International Film Festival will be held 15 to 19 January 2021 in Jaipur, India.