Weblog
• "The Badger" to be screened at Sofia MENAR Film Festival
2021-01-10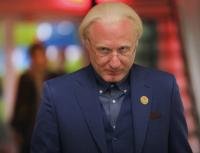 Iranian feature 'The Badger', written and directed by Kazem Mollaie, will be screened in the main section of the "13th edition of Sofia MENAR Film Festival" in Bulgaria.
'The Badger' is the story of a woman, Soodeh Sharifzadegan, performed by renowned female Iranian comedian, Vishka Asayesh, who is going through a challenging time in her private life on the verge of her second marriage.
The cast and crew of the film include Hasan Majuni, Mehraveh Sharifinia, Behnoush Bakhtiari, Reza Behboudi, Mehdi Hosseini-Nia, Siavash Cheraghipour, Mahmoud Nazar-Alian, Hamidreza Mohammadi, Mohammad-Amin Asadi, Yadollah Shademani, Neda Dehshiri and Gohar Kheirandish.
In January, 'The Badger' was also screened at the "17th annual Bahamas International Film Festival" (January 4-10) and is expected to take part in India's "13th Jaipur International Film Festival" (January 15-19) as well as "19th Dhaka International Film Festival" in Bangladesh (January 16-24).
Organized by Pozor company, Sofia MENAR Film Festival aims to make Bulgarian audience familiar with the culture and traditions of the Muslim world by screening the best films produced in the Middle East and North Africa, including features, documentaries and short movies.
Among the directors whose films have been screened at the festival are: Abbas Kiarostami (Iran), Majid Majidi (Iran), Ümit Ünal (Turkey), Asghar Farhadi (Iran) and Reza Mir-Karimi (Iran).

The Sofia MENAR Film Festival has been held annually in January since 2009. The 13th edition of this event will be held January 14-31, 2021.
Sources: ISNA, Iran's Daily