Weblog
• Iranian movie 'The Badger' shines in 2 American festivals
2021-03-31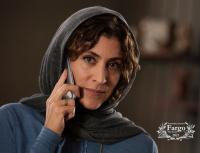 Iranian movie 'The Badger' received Honorable Mention in the Fargo Film Festive (FFF) after winning Best Thriller Feature Film in the International Prospector Film Festival.
'The Badger', directed by Kazem Mollaie, received honorable mention in the 'narrative feature' category in the "21st. Fargo Film Festival". 
The movie also won the 
Best Thriller Feature Film
 from the "5th. Prospector 
International
Film Festival" in the US.
It this movie, Soodeh's 11-year-old son is kidnapped before her second wedding and she is forced to ask her ex-husband for the ransom money.
It features several well-known Iranian actors and actresses, including Vishka Asayesh, Hasan Majuni, Mehraveh Sharifi-nia and Behnoush Bakhtiari. 
The main crew of "The Badger" include:
Scriptwriter and Director: Kazem Mollaie, Producer: Sina Saeidian, Director of Photography: Majid Gorjian, First Assistant Director and Program Coordinator: Alaleh Hashemi, Editor: Babak Ghaem, Make-Up Artist: Mahmoud Dehghani, Sound Recordist: Mohammad Kian Ersi, Sound Designer and Mixer: Hosein Abolsedgh, Music Composer: Mehdi Panahi, Set Designer: Monir Razizadeh, Costume Designer: Neda Nasr, Production Manager: Hamed Azadi, Title Designer & Visual Effects: Amir Mehran, Special Effects: Iman Karamian, First Camera Assistant: Daruish Rajaei, Script Supervisor: Mahshid Sadeghi, Still Photographer: Yousef Abdolrezaei, Fatemeh Taghavi, Procurement Manager: Amir Jafari Nejad